On October 6th at around 3a.m. in the morning, 4 of us piled into our truck and car and started off on the 14 hour trip from Fond du Lac, Wisconsin to Gillette, Wyoming. This was to be the first out of state hunt for 3 of the 4 of us and needless to say we were EXCITED. We arrived in Gillette a little after 3:30p.m. mountain time so we apparently made some pretty good time including our stops for food and gas. Once there we unpacked our gear and headed out to scout out some of the land that we were planning on hunting the following days. What we saw was absolutely incredible as there were antelope and mule deer EVERYWHERE!!! Talk about getting all of our hearts pumping and excited and we haven't even stepped foot out of our car!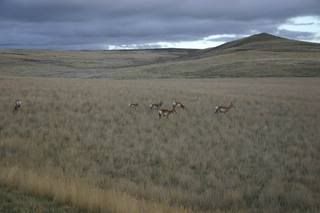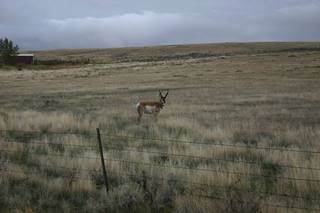 The next morning we all woke up, put on our gear and headed to our spots.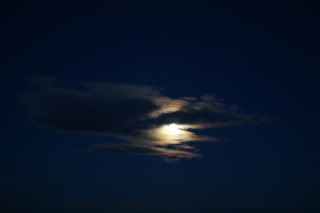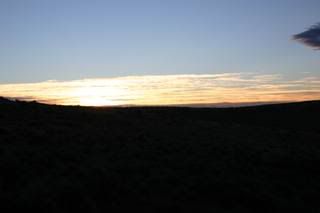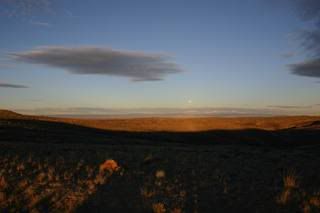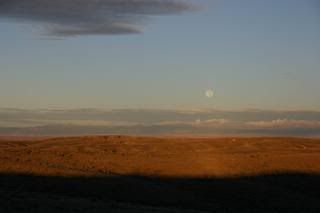 For hunting public land, I was suprised to see absolutely no other hunters!!! Plesantly suprised indeed. After walking around and glassing for antelope all morning but coming up empty, my uncle decided that maybe we should head to one of the other areas that we drove past the prior evening. It was just a 1 mile square parcel but I was all for it as the first place we tried was proving to be less than productive.
Once we got to our new spot, it didn't take us long to spot some of those speed goats. I did find that getting a steady shot in a 30+ mile per hour wind is less than ideal. My uncle dropped the first antelope of our group. We cleaned it and got it to a processor right away as it was near the 70 degree mark and we were warned not to leave them very long before getting them cleaned and taken care of. Later that afternoon, we made it back to that spot and didn't see much of anything. The two others from our group were off on some other BLM land in the nearby area and when we met up with them before heading to town, they were all smiles. Both of them connected on some nice goats...the biggest of the groups measuring 14 1/4 inches! He was smiles from ear to ear. That left me as the only one that hadn't filled his tag and we were only getting done with day one of our hunt.
The next morning, we headed straight back to the spots where we were seeing the goats...and got ready to work on me filling my tag. High up on a hill, we parked the truck and got out. We climed to the top of the ridge and all glassed the vast valley below. GOATS!!!! We found them again. Only one problem this time...they were over a mile away, and not a whole lot of cover stood between us. I grabbed my gun and my gear as the three others decided they would stay at the top of the ridge with their binoculars and just watch as I tried to stalk up on these "speed goats".
I made my way into the valley and over the ravines and washes, slowly getting closer to my prey. As I climbed the last ridge and neared the top, I spotted a goat. I got down on my knees so as to not spook them or alert them to my presence. From there I watched carefully through my binoculars. There were two goats, both with horns and both feeding off away from me. I could not see the other 30 or so that should have been with them that I saw from the ridge before entering the valley. This caused me to stay low to the ground and crawl on my hands and knees to try to get as close as I could for the best shot possible. One of the goats then turned broadside and I thought for sure would pick me off...so I layed flat on my belly. From this vantage point, I figured myself to be within 200 yards, well within my sighting range and very capable of making a clean shot. I used some of the low sage brush as a gun rest like one would use when sighting in their rifle. It proved to be just as effective giving me an motionless rest. Anxiously I scoped both antelope and determined the bigger of the two. Then I focused on that one and regulating my breathing as I needed him to turn one way or the other to get a clean shot. I must have been lying there for about 3 - 4 minutes when he finally started to turn off to his right...quartering away from me. Now was the time. I released the safety, put the cross hairs where they needed to be, followed the line/path that the bullet would take through his body, and gently squeezed the trigger. He was down!!!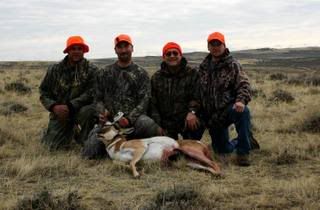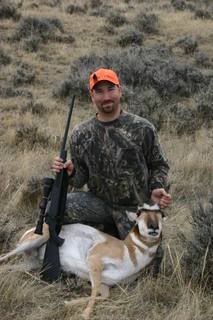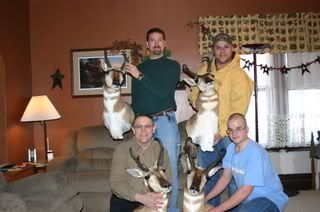 Hey Coodster!!! I'm sorry buddy that I didn't stop in and drop a quick hello while I was out there. We've heard from more than one rancher out there, "come back, and shoot as many as you can!!!" Seems with the drought you guys have been seeing over the past few years, ranchers are having issues with the antelope eating up their cattle grazing ranges.
This past year, I did not make it back out there, as it was my year to go on a family trip. This year, I do believe I'm headed to Colorado for elk. However, some of my other family members did make it back out there last season and were successful once again on what your great state has to offer, connecting on 6 Antelope, and 3 Mulies.