First off, I gotta give kudos where kudos are due.
Nate is a great guide, I came down from Wisconsin for my very first hog hunt to Nate's place 2 years ago, thanks to Kevin (Great White Hunter, from this and a couple othere sites)for the recommendation. Nate asks me, you want a couple hogs, and, of course I said yes sir that's what I'm here for. Well, within 15 minutes of the first two sits, I had a hog down. My thoughts, Dang, Nate this was quick and gee seems so easy!!!! I have since had several hogs that have humbled me greatly. They are not easy.
Then, a couple weeks ago, I want to bowfish Tilapias. Never bowfished for them. Nate(who I've not seen since the hog hunt) again asks me, so you want some Tilapias, huh? I again said yessir!!! Well by golly, we were on Tilapieas like flies on s***!!!!!
Then comes to today, which we planned the day the tilapia hunt ended, to go for some more tilapias and fish for redfish, which I have never fished before.
So, I set my alarm for 3am, get up, running a bit late thinking oh crap, we're gonna miss the shad(for bait), but I got there with 7 minutes to spare!!!!
We get to the dock and Nate has 1 net already in when I get back from parking the truck and trailer. Within 2 more nets we're headed for the redfish. Daylight has barely begun to show it's face.
Within 5 minutes of my rod in the water I've got my first redfish!!!!! And within 2-3 minutes it's in the boat and a keeper!!!! Cool beans!!!!!
15 minutes later I have my 2nd on and in the boat!!!!! YeeeeHaaaa!!!!! Nate gave great instructions and apparently I listened just as well. By 9:05am we had our limit plus a couple, 4 I think that were undersized.
Here is a good rep of the 6 we limited out with, also the size of the ones that we couldn't keep and stringer to follow. (I apologize now Nate for cutting you off!!!!)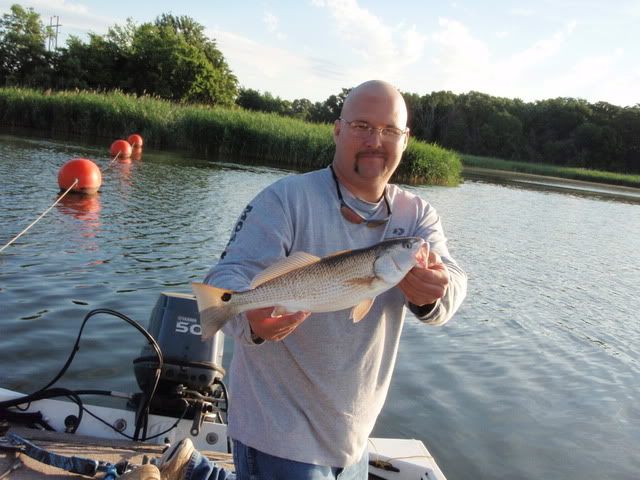 Then we went bowfishing for Tilapias and it was a bit slow and we missed a few, but we did boat 4. Nate Brained a snake as well. That was cool to watch. I was sure he arrowed it from the way it was flipping and turning, but it righted itsself just like a drunk might with it's tongue hanging out and you could just about see the stars floating around it's head like in a cartoon!!!!
The haul for the day: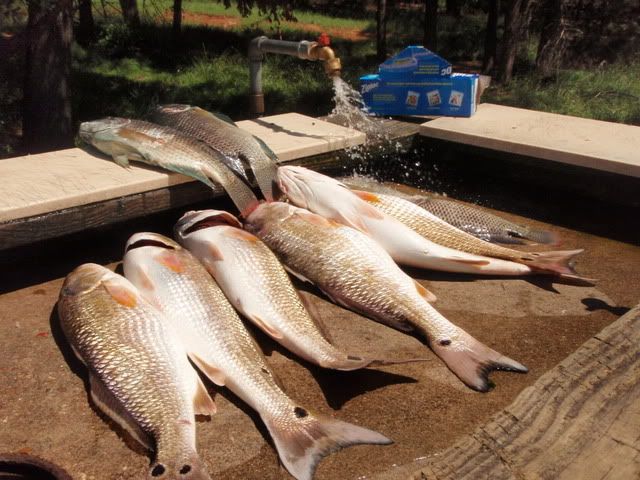 It was a great day fishing and shooting.
Nate is a great guide, teacher and friend.
PS. Rick, Cheri and kiddos: Nate says hello and get your buns on down to Texas for a hunt!!!!!!