The other morning when I went scouting , I came across this lone hen, thought she might be a jake so I went around the corner and yelped, no gobble so I went on my way, on my way back I saw her again....she looked all flustered, so I talked to her, she got that glazed look again and laid down......figured I spooked a gobbler off of her...so I pulled away from her about 60 yds. and just sat there,I look in the rear view and here she comes running up to my truck, I couldn't resist, i had to talk to her some more....so I got out of the truck...her reaction to this is in the first video....I call this "our first date", lol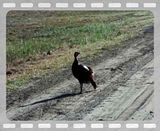 then today I saw her again and that is in the 2nd video....watch the ending.
now this is a totally WILD turkey.....I hesitated too long because I didn't want to spook her, so I missed my "touch" opportunity, but thats ok.....I feel really blessed that she allowed me into her world so to speak, even if it is just for a moment.....or a couple of them, lol...